Albert Edward, later Edward VII, was born on the 9th of November in 1841. He was the oldest son of his predecessor, Queen Victoria. He was married to the Princess Alexandra of Denmark on the 10th of March 1863, with whom he had three sons and three daughters. Two of his sons died before him, Albert Victor, his first born, on the 14th of January 1892 at the age of 28, and Alexander John, the third son, who died on the 7th of April 1871 at the age of one day. Edward VII died on the 6th of May in 1910 and was succeeded by his oldest surviving son, who became George V.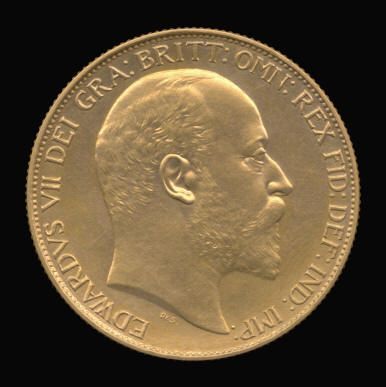 1902 Matt Proof Double-Pound

His coronation was the 9th of August 1902 and there were two proof sets issued with that date. The first was a long set consisting of five pounds, two pounds (pictured here), sovereign, half-sovereign, crown, halfcrown, florin, shilling, sixpence, Maundy Set (four coins). The second, short set, was issued which contained all of the preceding with the exception of the five- and two-pound pieces. There were a total of 15,123 proof coins (of each denomination from the sovereign down to the Maundys) struck in 1902. There were 8,066 struck of the five- and two-pound coins. Of interest is that for the first time, the proof coins were struck in Matt style rather than the polished style. This gives the coins a dull finished look.

Gold coins were struck not only in London, but also in Ottawa, Sydney, Melbourne, and Perth. See here for the mintmarks used and for their locations on the coins. A third-farthing coin was struck for use in Malta, and is included in standard references of the coins of England and Great Britain. Two styles of bronze penny and halfpenny were struck. A normal tide version which continued for the rest of the years of the reign, and a much rarer low-tide variant which was struck only in 1902. See here to learn how to differentiate between normal and low-tide coins.