George Augustus Frederick, later George IV, was born on the 12th of August in 1762. He was the oldest son of his predecessor, King George III, and was Regent during the final nine years of his father's reign. He was married to Caroline of Brunswick with whom he had one daughter, Charlotte Augusta, who was born the 7th of January 1796 and who died on the 6th of November 1817. George IV died on the 26th of June in 1830 and, having no other heirs, was succeeded by his brother William IV.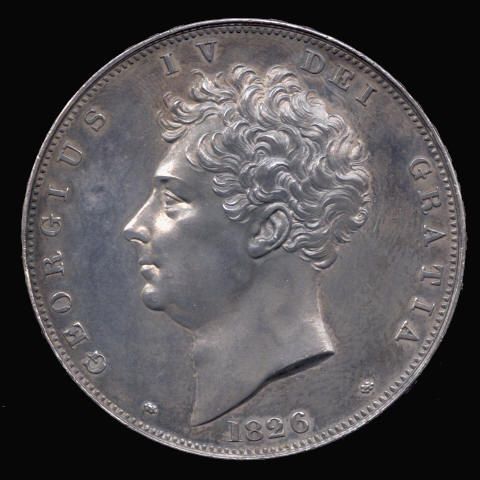 1826 Proof Crown

Although he succeeded to the throne on the 29th of January in 1820, only the halfcrown was struck for regular circulation in that year. His coronation was not until the 19th of July 1821 and a very rare short proof set was issued. A second proof set was struck in 1826 with the new style of portrait, this set is more common than the first but is still quite rare. This second set included a new gold two- and five-pound piece, both of which were struck only for the proof set and the mintage is believed to be around 150 pieces each.

In 1821, base coins (farthings) was issued again for the first time since 1807. These were the first copper coins of the New Coinage that was started in 1816 when the mint was moved from the Tower of London to Tower Hill. In 1823 a two-pound coin was issued for circulation for the first time.
Matrix of English Monarchs and Coins
---
Custom Search
---
To TreasureRealm Homepage | Index of Coin Papers
Terms of Use - Privacy Policy - Contact - Home
© 1996-2018 TreasureRealm