Albert Frederick Arthur George Windsor, later George VI, was born on the 14th of December in 1895. He was the second son of his King George V and succeeded the throne upon the abdication of his older brother, Edward VIII. He was married to Elizabeth Bowes-Lyon with whom he had two daughters. George VI died on the 6th of February in 1952 and, was succeeded by his oldest daughter, Elizabeth II.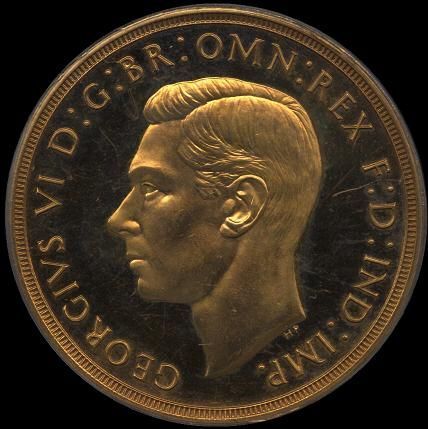 1937 Proof Five-Pound

George's coronation was on the 12th of May in 1937 and a coronation proof set was issued in that year consisting only of the four gold coins. An additional proof set was struck in the same year consisting of all the non-gold coins (15 in total). In 1950, a mid-century set was issued consisting of 9 coins from the halfcrown down to the farthing. The next year, for the Festival of Britain, another set of 10 coins was issued. This set in 1951 included the crown. No gold coins were struck for general circulation and the set is rather rare, with a mintage of only 5001 pieces. The five-pound coin is pictured to the right.

Compositions of the bronze coins were changed during the war, but reverted to the pre-war composition after its end. The war-time composition was .970 copper, .005 tin, and .025 zinc. The pre- and post-war composition was .955 copper, .030 tin, and .015 zinc.

In 1947 the silver coins were switched to a composition of .750 copper and .250 nickel, thus completing the debasement started in 1920. The exception was the Maundy coins which had also been debased to .500 silver. When the general circulation coins were switched to cupro-nickel, the Maundy coins reverted to their original high silver content of .925 fine.

In 1949, IND IMP (Indiae Imperator) was omitted from the coins signifying India's Independence. Two types of shillings were struck throughout George VI's reign, one is the English reverse, the other had the Scottish reverse. See here for examples of these reverses.