William Henry, later William IV, was born on the 21st of August in 1765. He was the third son of George III and succeeded his brother, George IV, to the throne on the 26th of June 1830. He married the Princess Adelaide of Saxe-Meinigen and had two daughters with her, the first of which died on the day of birth and the second which died when less than a year. Additionally, twin boys were stillborn in 1822. William also had several illegitimate children with a prior mistress. Upon his death on the 20th of June in 1837, the throne passed to his niece, Victoria.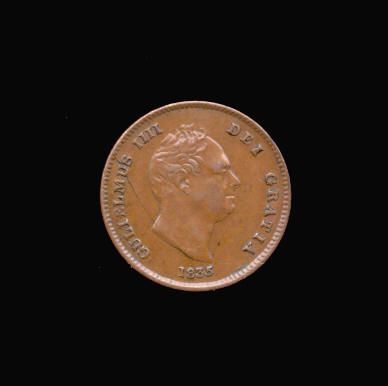 1835 Third-Farthing

William's coronation was on the 8th of September in 1831 and a 14-coin coronation proof set was issued in that year. No five-pound pieces were struck so the set consists of coins from the two-pound piece down, ie, two-pound, sovereign, half-sovereign, crown, halfcrown, shilling, sixpence, Maundy Set (4 coins), penny, halfpenny, and farthing. A crown was struck in gold in 1831 as a trial and is often substituted (by those who can afford it!) for the five-pound coin. The two-pound coin is quite rare, with only 225 pieces having been struck.

During his reign, the groat, or fourpence, was issued again for general circulation and is notable as being the only silver coin having upon the reverse the seated figure of Britannia, which in all other cases was reserved solely for the copper coins.

Two different halfcrowns were struck having as a difference the style of the designers initials ("WW" for William Wyon). On the neck of William IV the more common style is with the letters in script style. In 1831 a proof was struck with them in block style and a regular issue in 1834 is also of the block style.