Born Aulus Vitellius on 24 September 14 AD. He was appointed by Galba as Governor of Lower Germany. The legions there proclaimed him emperor on 02 January 69 AD. After brief negotiations, the legions of Vitellius marched south into Italy and defeated Otho who had replaced Galba in a coup just days after Vitellius was proclaimed emperor.

He arrived in Rome in July where the Senate proclaimed him Augustus. The General Vespasian was proclaimed emperor in Alexandria on 01 July 69 AD by his legions who were in the process of putting down the First Jewish Revolt. The Armies of the Danube supported Vespasian and invaded Italy. Vitellius' troops were defeated and the emperor announced his intent to abdicate. He was shut up in his palace to await the approaching Flavian army who entered Rome two days later. Vitellius was dragged through the streets and murdered on 20 December 69 AD after a reign of just less than a year.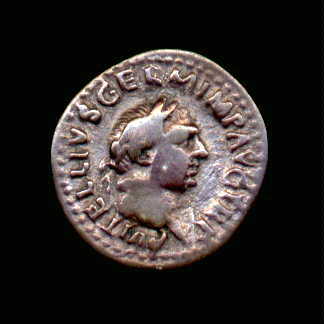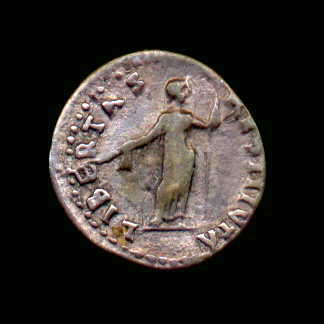 RIC I - Vitellius, 105: AR Denarius, 18x19mm (Rome) 69 AD
Obverse: A VITELLIVS GERM IMP AVG TR P


Laureated head of Vitellius right.

Reverse: LIBERTAS - RESTITVTA


Libertas, draped, standing facing, head right, holding pileus, left hand holding a long rod.
---
Obverse Legends:

A VITELLIVS AVG IMP GERMAN
A VITELLIVS GER IMP AVG P MAX TR P
A VITELLIVS GER IMP AVG P M T P P
A VITELLIVS GERM IMP AVG P M TR P
A VITELLIVS GERM IMP AVG TR P
A VITELLIVS GERM IMP TR P
A VITELLIVS GERMA IMP AVG P M TR P
A VITELLIVS GERMAN IMP AVG P M TR P
A VITELLIVS GERMAN IMP TR P
A VITELLIVS GERMANICVS IMP
A VITELLIVS GERMANICVS IMP AVG
A VITELLIVS GERMANICVS IMP AVG P M TR P
A VITELLIVS IMP GERMAN
A VITELLIVS IMP GERMANICVS