The Copper, Tin, and Broze Coinage of England
H Montagu, F.S.A, , 1893
George I
---
George I, 1714-1727
The over-issue in the reign of William III. had the effect of still supplying all demands for copper coins at the time of the accession of George I. to the throne, and it was not until three years afterwards that any further coins were struck. The coinage consisted of halfpennies and farthings only. They are all the work of Croker, but inferior in design and execution to those of the late reign.

Halfpenny
1. O. GEORGIVS. REX.. The king's bust to the right with short hair, laureate, and with armour, within a linear circle surrounded by broad graining. Edge plain.
R. BRITANNIA. The figure of Britannia holding a laurel branch and with usual attributes. The date in the exergue. Inner circle as on obverse. R. 2.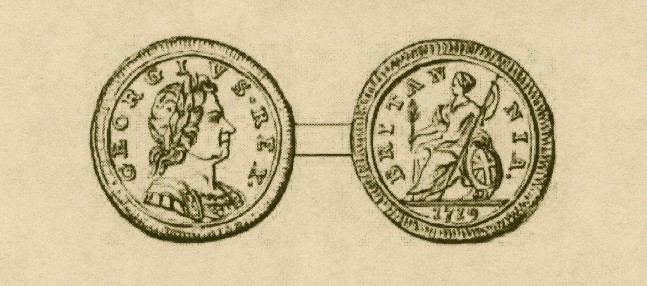 This coin occurs of every date from 1717 to 1724 inclusive. The halfpennies of 1717 and 1718 are smaller and thicker than those of subsequent years. In the National Collection is a halfpenny of 1718 which has been struck over a piece of gun-money of James II., dated 1689. In the same collection is a halfpenny of 1721 of double the usual thickness. Mr. Caldecott has a bronze halfpenny of 1719 with the edge thickly grained. Proofs in silver and in copper exist of the halfpenny of 1717, and I have had a bronze proof of 1722.

There is a rare halfpenny, possibly unique, by Croker, which gives the king's head on both sides, like one of the patterns of Anne by the same artist; but this is, in my opinion, merely due to an accident from two obverse dies being used. I have had a halfpenny of George III., of the same character, and a similar halfpenny of William III. has already been described. Such pieces have been forged and used with some success in the game generally known as "pitch and toss."

Farthing
2. O. GEORGIVS. REX.. Bust as on the halfpenny.
R. BRITANNIA As on the halfpenny. R. 2.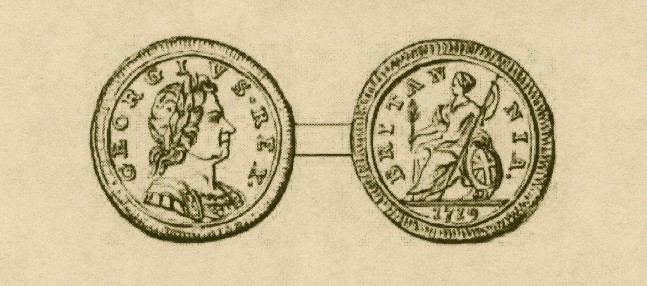 The current farthing occurs of the same dates as the halfpenny, with the exception perhaps of 1718, and those of 1717 are in like manner smaller and thicker than those of subsequent years. The punctuation differs on various examples. Many of the farthings seem to have been cast. Some farthings of 1719 have large lettering on the obverse, others small lettering as in the succeeding years, and on one variety of that year the legend on the obverse is continuous as on the halfpenny, and not broken by the head of the king. I have not succeeded in seeing or tracing any copper farthing bearing the date 1718, though it has been said to exist. My doubt as to its existence was shared by Mr. Barré Roberts, and is expressed in the Manuscript Catalogue of his Coins which is in my possession.

Proofs of the farthing of 1717 occur in copper, and of 1717, 1718 and 1719 in silver. In the cabinet of the late Mr. Brice was a copper example of the farthing of 1720 struck on a very thin flan, with broad rim and grained edge; Mr. Hoblyn also has one